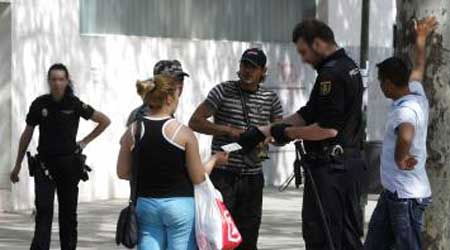 THE Police ask gypsies, Africans and South Americans for their ID 10 times more often than they ask the Spanish.
According to a study by Valencia and Oxford Universities, a Moroccan-looking man has seven and a half times more chance of being stopped than a Caucasian.
For years, NGOs have been complaining that immigrants are asked for their ID more than the Spanish. This 'discrimination' also affects men more than women.
Last year alone, the police in Spain asked for ID on 7.95 million occasions, which is equivalent to 17 per cent of the population.
The report concludes that the experience of being stopped by the police and asked for ID based simply on their appearance makes people less willing to cooperate with the police and decreases their confidence in the forces.