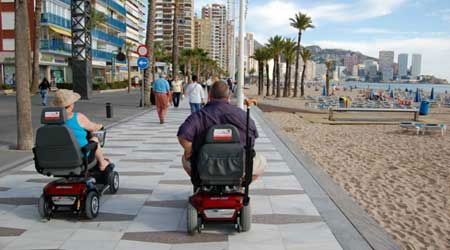 DRUNK in charge of a mobility scooter?
This is not uncommon in Benidorm where the scooters are less of an aid to those with impaired mobility, more a source of entertainment.
It is debatable whether Madge in the 'Benidorm' television series actually needed a mobility scooter but after the programme first aired everybody wanted one and around 500 are used each day on Benidorm streets, according to the town hall's calculations.
Officials say too many are being used for the wrong reasons, and some speed and run 'improvised races' oblivious to pedestrians and traffic. As a result, a by-law limiting their use is due to be approved in November, restricting them to those who genuinely need them.
Once the new regulations go through, hire companies must register all scooters, which may be hired only to the over-55s or those with temporary or permanent disability.
Fines await those found speeding in pedestrian zones or under the influence of drugs or alcohol. If users fail to pay these, they will be passed on to the hire firms themselves.