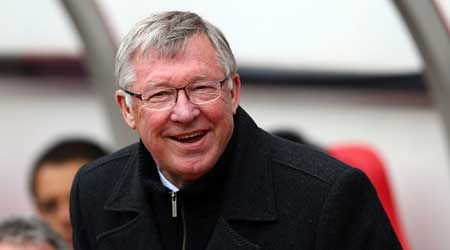 LONDON (Reuters) – David Beckham thought he was too big for Manchester United and later surrendered part of his career by moving to the United States to play for LA Galaxy, former United manager Alex Ferguson said in his autobiography published on Tuesday.
In "My Autobiography", published by Hodder and Stoughton, Ferguson chronicles the years from Manchester United's treble-winning season in 1999 to the time he ended 27 years in charge of one of the world's biggest football clubs.
Those waiting with bated breath for its contents to be revealed would not have been disappointed either with Ferguson's dejection at Beckham's obsession with celebrity or Roy Keane's "frightening" rages which are covered in candid detail.
Ferguson's 27 years at Old Trafford, before retiring at the end of last season after a 13th Premier League title, were the most successful of any British manager.
During a time of huge change in the football landscape the one constant to emerge was Ferguson's total authority, however big the egos or the salaries of those under his command.
In a chapter devoted to Beckham, Ferguson says the former England captain "surrendered" part of his career when opting to join LA Galaxy in 2007 from Real Madrid, after being sold to the Spanish powerhouse by Ferguson in 2003.
"There was no footballing reason for him to go to America," Ferguson said. "He was giving up top level football as well as the international game. You should never surrender what you're good at."
Ferguson also questioned Beckham's lifestyle.
"David was the only player I managed who chose to be famous, who made it his mission to be known outside the game."
Ferguson, who famously kicked a boot at Beckham's head during a halftime row, said the midfielder eventually thought he was bigger than the club.
"David thought he was bigger than Alex Ferguson…the name of the manager is irrelevant. Authority is what counts."
Ferguson's fallout with former skipper Keane also led to the Irishman departing.
Keane left Ferguson fuming after criticising his team mates on the club's TV channel in 2005.
"What you did in that video was a disgrace," Ferguson recalls of his reaction to Keane.
Ferguson said the breaking point was when Keane accused him of bringing his private life into the club.
"The hardest part of Roy's body is his tongue," Ferguson wrote. "What I noticed that day as I was arguing with him was his eyes narrowed to black beads. It was frightening to watch. And I'm from Glasgow."
Ferguson's relationship with Wayne Rooney became strained in 2010 when the striker said he would not sign a new contract because the club did not share his ambition.
"Wayne said we should have pursued Mesut Ozil who had joined Real Madrid from Werder Bremen. My reply was that it was none of his business. I told him it was his job to play and perform.
"It was a sorry episode for Wayne because it portrayed him as a money man. With the fans, it left a residue of mistrust."
Ferguson said he was offered the England manager's job before Sven-Goran Ericsson was appointed in 2001 and before that in 1999 when the job went to Kevin Keegan.
"There was no way I could contemplate taking the England job, can you imagine me doing that?," the Scot said.
"No, it wasn't a bed of nails I was ever tempted to lie on."