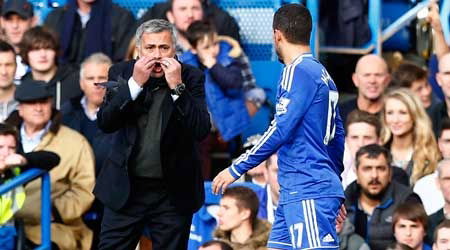 LONDON (Reuters) – Chelsea manager Jose Mourinho has been charged with improper conduct for his behaviour during a Premier League game against Cardiff City, the FA said on Monday.
Mourinho was ordered to the stands by referee Anthony Taylor 20 minutes from the end of Saturday's 4-1 win for protesting to the match official after becoming increasingly frustrated at what he perceived to be Cardiff's time-wasting tactics.
His assistant Steve Holland said after the game: "Jose is very frustrated and it stems from the time-wasting by the opposition from the first two or three minutes. We mentioned it politely to the fourth official and the referee.
"It was a deliberate ploy to break up the game and needed some action. Jose was furious on the touchline."