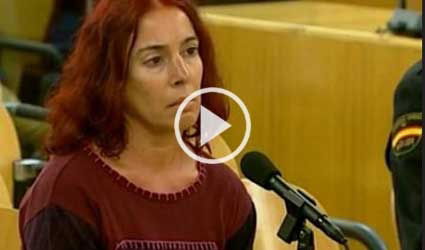 MADRID (Reuters) – Europe's top human rights court ordered Spain on Monday to release a Basque separatist militant, saying her extended detention was illegal, a ruling victims groups warned would let dozens of prisoners walk free.
The Strasbourg-based court also told Madrid to pay 30,000 euros (25,422.16 pounds) compensation to Ines del Rio, who was jailed in 1989 for her role in 23 assassinations and car bombings carried out by the Basque independence movement ETA.
Del Rio had been scheduled for early release in 2008, but courts extended her detention and those of dozens of other ETA members.
Upholding an earlier ruling that had been appealed by Spain, judges at the European Court of Human Rights overwhelmingly decided her rights had been violated by the retroactive changes to sentencing rules.
"I feel indignation, nausea, rage, anger over the decision," said Enrique Gonzalez, a member of Spain's Guardia Civil police force, who was wounded when ETA's Madrid cell, which del Rio belonged to, attacked a bus in 1985.
Groups representing victims of political violence called on the government not to comply with the sentence and not allow it to set a precedent.
"Terrorists will get out of jail," the president of Spain's Terrorist Victims Association, Angeles Pedraza, said earlier.
Del Rio was found guilty of murder, attempted murder and other crimes in a number of trials. Prosecutors said she transporting explosives, put them in cars and detonated car-bombs.
CASES REVIEWED
The rights court ruled her continued detention violated two articles of the European Convention on Human Rights covering the right to no punishment without law and to liberty and security.
It "considered it incumbent on the Spanish authorities to ensure that Ms del Rio … was released at the earliest possible date," the court said in a statement.
Spanish Justice Minister Alberto Ruiz-Gallardon said Spain's High Court would have to go through dozens of cases to see if anyone else would have to be released.
"There has been a ruling in one concrete case, but there is no generalised doctrine. Each individual petition (for early release) will have to be resolved individually," he told reporters.
Gallardon said the government would not have to pay del Rio anything because she still owed compensation to her victims under the terms of her sentencing.
Del Rio originally received prison sentences totalling more than 3,000 years covering all her convictions – though Spanish law capped the amount of time someone could spend in prison for murder at 30 years.
In 2006, Spanish courts ruled time off for good behaviour should be subtracted from the total sentence handed out to a prisoner, not the 30-year limit. That meant Del Rio would have had no chance of getting out before the three-decade limit had passed.
This sentencing practice is known as the "Parot Doctrine", after the first ETA prisoner it was applied to, Henry Parot.
About 600 ETA members are in prison in Spain. Of those, 61 have had their early release cancelled under the doctrine.
ETA, which killed more than 800 people over more than four decades, many with car bombs, proclaimed a unilateral ceasefire two years ago.
The group has been severely weakened by hundreds of arrests and flagging political and social support in the Basque Country.