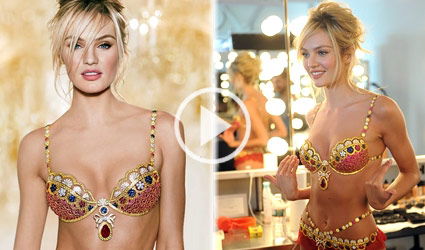 EVERY year the Victoria's Secret fashion show features a show stopping garment, often shockingly expensive, known as the Fantasy Bra.
This year's Fantasy Bra is no different. The newest bra is reportedly worth more than €7million, and will be worn by the Victoria's Secret Angel – Candice Swanepoel.
Swanepoel follows successful models Alessandra Ambrosio, Gisele Bundchen, and Heidi Klum as the bearer of the fantasy bra.
The majestic undergarment comes with a matching belt and features 4,200 precious gems, including several rubies, diamonds and yellow sapphires. The framework consists of an 18-carat gold setting and from where the eye is drawn to a 52-carat pear shaped ruby that hangs from the centre of the bra.
In a recent interview Swanepoel told the press they had made a mould of her body in order to design the intricate piece.
Due to the sheer value of the one-of-a-kind piece it also comes with not one, but two bodyguards.
Credit: VICTORIASSECRET (YouTube)