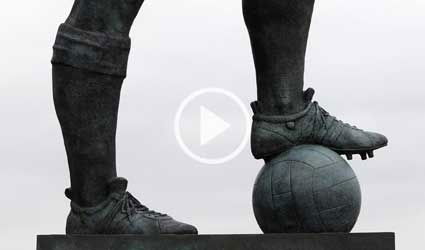 LONDON (Reuters) – Sixteen descendants of the English FA's 'Founding Fathers', from as far afield as New Zealand and the United States, will attend the unveiling of a plaque at Wembley Stadium on Monday as part of the association's 150th anniversary celebrations.
The world's first football association was formed on October 26, 1863 and a gala dinner will be held in London on Saturday to mark the actual date of its establishment.
In March, the FA launched a search to find living descendants of the eight men who formed it and managed to uncover relatives in Britain as well as in the United States and New Zealand.
Surprisingly little was known about Ebenezer Cobb Morley, Arthur Pember, Charles William Alcock, Francis Maule Campbell, John Forster Alcock, Herbert Thomas Steward, George Twizell Wawn and James Turner – the men that gathered to form the FA and draft the original 13 laws of association football.
Jane Clayton from the International Football Institute, University of Central Lancashire, said: "For the search to have been so successful is incredibly pleasing as, from a historical perspective, we now know a lot more about a number of the men that created the most popular sport in the world one hundred and fifty years ago.
"The research carried out to date has been extensive but the work continues in the hope of discovering more descendants across the world."
FA General Secretary Alex Horne added: "In terms of historical significance, the eight Founding Fathers of football should be placed alongside other great pioneers of this nation.
"The FA is delighted that in its 150th year we have been able to identify living descendants and honour their forefathers at what is now the home of English football, Wembley."