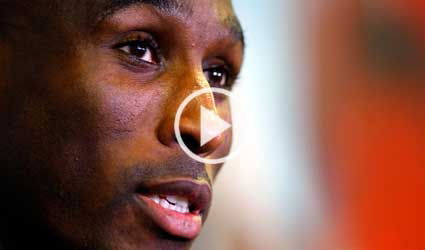 LONDON (Reuters) – Former England defender Sol Campbell, an intensely private man who rarely opened up to team mates or media during a hugely successful but controversial 20-year playing career, has changed since hanging up his boots.
"I am more relaxed. I have taken time to completely settle with myself. When I was playing I did not have time to put out the fires and (I) perhaps let things slide because I was concentrating on the football," he told Reuters in an interview.
"But now I've retired it's time to tell the story."
It is quite a story: after growing up as the youngest of 12 children in the East End of London, Campbell went on to play for arch-rivals Tottenham Hotspur and Arsenal and 73 times for England as well as Portsmouth, Newcastle United and one match for Notts County.
Along the way Spurs fans, who once worshipped him, dubbed him "Judas" when he signed for Arsenal, homophobia and race issues dogged him, major honours came his way and he scored in a Champions League final.
The first official biography of the 39-year-old Campbell – "Sol Searching" – is being published next March and the process of opening up to author Simon Astaire had a big impact on the player, who at one time was England's second-youngest captain after Bobby Moore.
"I never wanted to say too much while I was playing. I know some people do that to get more sales or some guys have done three autobiographies before they have retired but this book is not that type of gig.
"I've taken time to completely settle with myself. I am more relaxed about talking about myself. I wanted to say how it was and how maybe it should have been because sometimes I let things slide and got on with it, because I was concentrating on the football.
DIFFERENT BOOK
"When I was growing up I didn't have a massive PR company to put out fires here or start fires which some people like to do to get themselves known or whatever. It is a different kind of book, it's not straight from the back pages."
At the heart of the story is his hugely controversial transfer from Spurs to Arsenal in 2001, a move that Spurs fans still regard as the ultimate betrayal by a player who grew up in the youth team to become captain of Spurs, a club overshadowed by their rivals' success.
Campbell explains his reasons for the move at length in the book and told Reuters: "I did not take the decision lightly. I took a long time to decide, a long time, and I gave the club time to rectify the situation.
"On a personal level it was a very difficult situation but in the end I had to look at my career. I understand the Arsenal-Tottenham situation, of course I do, but the very first time I ever put on an Arsenal shirt I did not find it a problem.
"I was going to a side that at that time was absolutely fantastic, one of the best teams Arsenal has ever had. They had strength in depth, pure grit and sublime skill.
"They had everything. I was joining a club with a lot of character on and off the field and I wanted to be part of it.
"I had to start winning things, and I did. I could not go through a whole career of ifs and buts."
POLICE CALLED
Campbell says he was the first footballer to call in the police to deal with the harassment he received from fans, although not while he was at Arsenal.
He was still being hounded by Spurs fans when he went to Portsmouth in 2006, and he decided enough was enough.
"How I was treated was disgusting really and I had to take it into my own hands to stop it.
"I was the first one to actually get the police involved at that level to calm people down because it got out of hand."
Police arrested 11 people in 2009 after investigating allegations of racist and homophobic chanting aimed at Campbell, and several were banned from football, fined or given police cautions.
"It really got out of hand when I went to Portsmouth," Campbell said. "That's when the police got involved. I wasn't even at Arsenal any more. What the hell was going on?
"My family started to get affected… I wasn't having that. It had to stop. It was a frenzy, it kept going on and on. When it started to spill out of the sport, spill out of the stadium and started to affect people in different parts of your life, well it had to stop."
Campbell won the FA Cup and League double with Arsenal in 2002, and was a member of their "Invincibles", the team that went unbeaten in the 2003-04 season.
He scored for Arsenal in their 2-1 defeat to Barcelona in the 2006 Champions League final, before winning the FA Cup with Portsmouth in 2008.
Controversy followed him to Notts County where he played one match before realising he had made a terrible mistake and walking out in 2009.
His playing career ended in 2011 with a brief spell back at Arsenal and a handful of games for Newcastle United. He is now taking his UEFA coaching badges.
"People will see a different side of me," he said of the book.
"But it's not just about me, it's about what happens in a life as well. I am just one character who has been through a lot of things and I am talking about them. I found it tough to do. It was emotional; it was therapeutic."
And it is more likely to be on sale in the Arsenal club shop rather than Tottenham's.
Credit: Sandwellnews (YouTube)