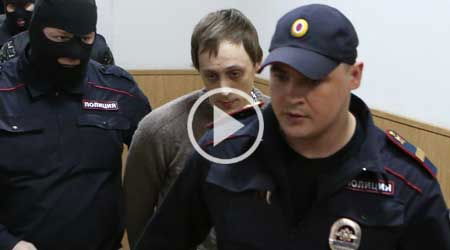 MOSCOW (Reuters) – Dancer Pavel Dmitrichenko, who made his name on stage at Moscow's Bolshoi Theatre, goes on trial on Tuesday for an acid attack that nearly blinded the ballet's artistic director.
Dmitrichenko, 29, is accused of organising the assault on Sergei Filin early this year which exposed bitter rivalries behind the scenes at one of Russia's greatest cultural institutions.
He and two alleged accomplices could be sentenced to up to 12 years in prison if they are convicted of intentionally causing grievous bodily harm.
Filin, whose position gives him power to make or break careers, was returning home on January 17 when a masked assailant called his name and threw acid in his face from a jar, leaving him writhing in the snow and calling for help.
At a hearing in March, Dmitrichenko admitted he had wanted Filin to be roughed up but had been shocked to learn that acid was used.
"Dmitrichenko does not consider himself guilty of causing grave harm to Filin's health," his lawyer, Sergei Kadyrov, said on Monday. "I hope the court will be able to distance itself from the public resonance of this case and deliver a well-grounded and just verdict."
Dmitrichenko, who has been in custody since March, will stand trial with Yuri Zarutsky, the alleged attacker, and Andrei Lipatov, who is accused of driving the assailant to and from the scene.
Born into a family of dancers, he played roles including a murderous Russian monarch in Ivan the Terrible and a villain in Swan Lake. On the Bolshoi Theatre's website, his picture remains alongside other leading soloists in the renowned ballet troupe.
"A crime was committed. It must be solved. If Pavel's guilt is proven, he should be punished," Bolshoi spokeswoman Katerina Novikova said on Monday. "In any case, for us this situation is tragic – it involves our friends and colleagues."
In court Dmitrichenko said he had told Zarutsky about alleged corruption at the Bolshoi and accused Filin of playing favourites in the distribution of financial grants.
The scandal over the attack has damaged the theatre's reputation and that of its management and stars.
The Russian government dismissed the Bolshoi's longtime head Anatoly Iksanov in July, and earlier this year the theatre declined to renew the contract of Nikolai Tsiskaridze, a top dancer who feuded with Filin and Iksanov.
After months of treatment in Germany, Filin, 42, was back at the Bolshoi last month at the ceremonial inauguration of its 238th season, with dark glasses shielding his damaged eyes.
But with more operations expected on top of the more than 20 he has already undergone, Novikova has said it is unclear how many of his duties he could resume.
Credit: FastTheLatestNews (YouTube)