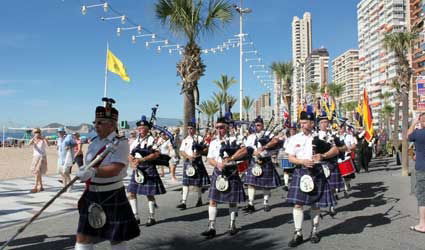 POPPY APPEAL 2013 was launched in Benidorm with a parade along the Levante seafront, headed by the Torrevieja Pipes and Drums.
Fourteen squadrons were represented in the parade and joined by two Chelsea Pensioners.
The procession ended at the Rincon de Loix, with speeches from Chris Wyatt, District North Chairman and Poppy Appeal coordinator Robin Hargrave. The British consul in Alicante, Paul Rodwell said: "Welfare is at the heart of The Royal British Legion and I am pleased as Consul and President of District North, that it continues to help brave men and women from our armed forces and their dependants."
The Mayor of Benidorm,  Agustin Navarro said: "This is a town that maintains the best ties of friendship with the people from the UK. Your generosity is important to those who, in defence of the most important values of our society, stained many fields with blood."
The Royal British Legion was founded in 1921 to help servicemen and their families. There are around 1,800 members in Alicante province. Last year they raised €170,000 for the RBL.