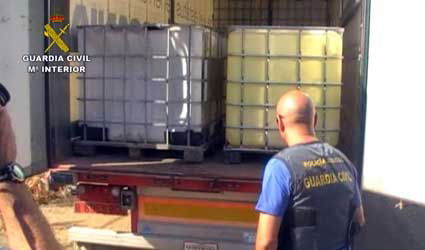 GUARDIA CIVIL have dismantled an illegal ring that allegedly stole diesel from a national oil transport and distribution company.
Fifteen people have been arrested in the so-called Carafe Operation including their alleged leader, a Lithuanian man, who is claimed to specialise in this type of theft.
According to Guardia Civil, the organisation accessed pipelines by digging three metre holes in difficult access areas.
Then they extracted the fuel after carefully perforating the pipes, Guardia Civil added.
The necessary tools for these perforations were provided by two men from Huelva, who have also been arrested.
The extracted diesel was sold to a transportation company in La Rinconada (Sevilla).
The illegal organisation had started an administrative process to open a company in order to lauder the illicit money, Guardia Civil stated.
Seven vehicles, several mobile phones and 6,500 litres of diesel worth €10,000 have been seized in the operation.
The arrested have been remanded in custody.