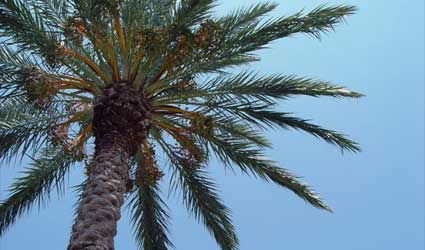 ALMERÍA CITY HALL, through the Department of Environment and Agriculture, has pruned 1,200  palm trees located in different parts of the capital. Specifically 623 are in the Parque Nicolas Salmerón, while a further 426 line the Avenida Federico Garcia Lorca.
The remaining palm trees are the 127 in the Avenida Cabo de Gata and 24 are in the Cathedral Square.
The Department of Environment has reported that a total of 6,500 branches have been pruned and have been delivered to the producer in charge of the filming of 'Exodus', who made contact with Almeria  City Hall asking for the branches with the purpose of using them in the set.
The work consisted mainly in cleaning and pruning the leaves, and the removal of the branches of  the date palms. The councillor for the Environment, Esteban Rodriguez, explained that these prunings are usually conducted on an annual basis and have a dual purpose, first the aesthetic appeal and second for safety, as many of the dead branches of palm trees can easily fall off.