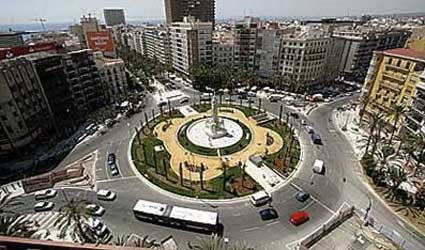 PLAZA DE LOS LUCEROS is the heart of Alicante city.
It is also at the heart of the June Hogueras fiestas but the monumental fountain at its centre, created from cast concrete in the early 20th century, is deteriorating. 
Vibrations from the daily "mascletas" – firework displays whose object is noise not colour – have damaged the structure.  Cracks are appearing and fragments are falling from the fountain's columns and embellishments.
To the disgust of residents as well as fiestas organisers, the city hall decreed that another location would have to found for next June's displays. 
Meanwhile, the Luceros fountain will undergo a "profound restoration," announced Culture councillor Miguel Valor.
Emarasa, responsible for the upkeep of the city's fountains has decided to substitute the chlorine usually added to the water with "less aggressive" ozone. 
City hall is analysing its contract with the company to determine whether it should contribute towards the cost of repairs. Emarasa insists that it is not responsible for the type of restoration that the Luceros fountain needs.