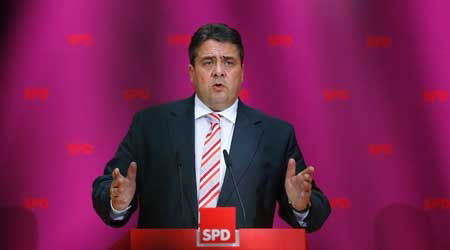 BERLIN (Reuters) – Leaders of Germany's Social Democrats (SPD) won a green light from their party to start coalition talks with Angela Merkel on Sunday, after promising to wring concessions from the chancellor on a minimum wage, equal pay and infrastructure investment.
Discussions between Merkel and the centre-left SPD on forming a new government can now begin on Wednesday, a month after an election saw her conservatives emerge as the biggest political force but needing a partner to form a majority.
The SPD's willingness to enter talks comes at a price. The party listed 10 demands it called "non-negotiable", including a minimum wage of 8.50 euros per hour, equal pay for men and women, greater investment in infrastructure and education, and a common strategy to boost euro zone growth.
"We will negotiate hard so that in the end a workable government emerges. Compromises will be necessary. However the party considers the following points non-negotiable," the SPD declaration said, listing a minimum wage in first place.
Merkel's Christian Democrats (CDU) and their Bavarian allies the Christian Social Union (CSU), favour "wage floors" on a regional or sectoral basis, set by employers and unions.
Volker Kauder, head of the CDU's parliamentary group, said he was sure they could reach a deal. Finance Minister Wolfgang Schaeuble said any new regulation must not threaten jobs.
Germany's leading economic institutes warned on Thursday that the introduction of a minimum wage could lead to significant job losses in eastern Germany, where a quarter of workers earn less than the proposed new amount.
The SPD also demanded equal pensions in the former West and East Germany, the ability to have dual citizenship, and measures to make it easier to combine work with family life.