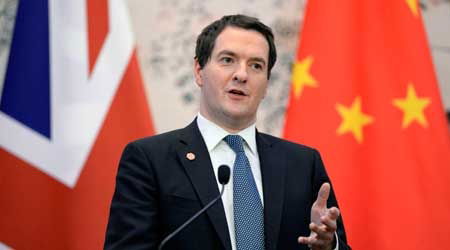 LONDON (Reuters) – British Chancellor George Osborne said his ministry was actively looking at breaking up the state-backed Royal Bank of Scotland to create a "bad bank" to house its problem loans, the Daily Telegraph newspaper reported on Friday.
Osborne, who asked investment bank Rothschild in June to examine if RBS, 81-percent owned by taxpayers, should be made to hive off its soured assets into a separate legal entity, has made sorting out the bank's future his top priority for the next two to three weeks, the paper said.
"We are looking at the case for a bad bank and if not a bad bank what is the alternative strategy that really gets on top of the problems in that bank and goes on being what I want it to be which is a bank supporting the British economy," Osborne told the Telegraph in an interview in China.
Rothschild's review is due shortly and the paper said the government was "understood" to be considering three options for dealing with RBS's problem assets.
These are creating a bad bank inside RBS run by an independent team; following the model used by Swiss bank UBS which created a bad bank supported by the Swiss central bank; or setting up an entirely separate taxpayer-backed bad bank.
U.S. asset manager BlackRock, hired to analyse RBS's portfolio, had identified 50-60 billion pounds ($81-97 billion) of assets to be placed into any bad bank, the Telegraph added.
The paper said the go-ahead for the break-up would be given within the next few weeks however a Treasury spokeswoman said early on Saturday no decision had been made.
"As the Chancellor has said, the government is currently examining the case for creating a bad bank of the Royal Bank of Scotland's risky assets," she said. "That review is ongoing, and will be published in the Autumn."
Advocates of a break-up, including former Bank of England Governor Mervyn King and ex-finance minister Nigel Lawson, have said it would leave the bank better placed to lend and support the British economy.
The Telegraph said Osborne had said there was no chance the bank could remain in its current form.
On Friday, RBS's new chief executive, Ross McEwan, said the government review into a possible break-up was distracting executives looking to revive the bank's fortunes.
"The debate you read about in the papers – and that has taken up too much time of the management team – has been about what is now a small proportion of our activity. We are taking responsibility for resolving these debates," McEwan said in a memo to staff.
Osborne also told the Telegraph there was no prospect of selling the government's stake in the bank, bailed out in 2008 at a cost of 45.5 billion pounds ($73.7 billion), before the next election due in 2015.
However, he said they were pushing ahead with a plan to sell shares in part-nationalised Lloyds Banking Group to private retail investors.
"We are now looking actively at a retail offer for the next tranche of Lloyds shares," he said. "With RBS we are not, at the moment, close to the stage of being able to sell RBS shares.
"RBS was a much more complex bank. To be fair to management past and present it was a bank that was in a lot more trouble. The clean-up job has been more difficult but we have got to make these decisions now about the future for RBS." ($1 = 0.6178 British pounds)