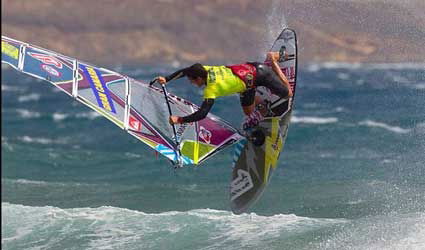 HE is one of the best windsurfers of all time and the only Spaniard that has managed to take the title of world champion in this discipline.
Now a documentary has traced his career and shows spectacular footage shot in different parts of the world from Hawaii to Almerimar.
Victor Fernandez is the star of 'Below the Surface', a  40 minute film which premiered on Thursday  at the Auditorium Theatre of El Ejido.
Although entry was offered free of charge, a symbolic contribution of one euro was made to benefit the Association for the Fight against Cancer after the film's director, Andre Paskowski died of cancer this summer.
"It means a lot to me that people from my land can see this documentary which shows my start in windsurfing, my family and friends. They can see how I've grown and how this sport can take you to different parts of the world," said Victor, who currently ranks fourth in the world.
The film shows the best windsurfing extreme manoeuvres in places such as Maui (Hawaii), Gran Canaria, Peru and his home territory Almerimar.
 The documentary also looks at the life of the Ejidense since he started sailing with his father up until he won the world championship title in 2010.