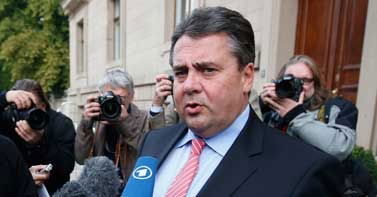 BERLIN (Reuters) – In his first speech since agreeing to coalition talks with Angela Merkel's conservatives, the leader of the Social Democrats delivered an impassioned defence of European bailouts, saying Germany's own success hinged on that of its neighbours.
Speaking to union members in the western city of Hanover, SPD Chairman Sigmar Gabriel also said his party would press for bolder measures to boost growth in talks with Merkel, describing high youth unemployment as Europe's "biggest disgrace".
"Let us not forget that Europe is not a burden for Germany, it is not a weight on our shoulders, quite the contrary. Our economic future depends on the future of Europe," Gabriel said.
"We are not helping other countries just because we're good people, because we want to soothe our conscience and be nice. We are also helping because it serves our own interests. We need to stabilise Europe because otherwise joblessness and growth problems will spread to our country."
The comments by Gabriel, who is expected to become deputy chancellor and take a top cabinet post under Merkel, suggested that a new 'grand coalition' government could adopt a softer, more conciliatory tone towards struggling southern euro members like Greece and Portgual.
During the election campaign, the SPD accused Merkel of failing to make the case for European rescues with the German public and insisting too much on austerity at the expense of growth and jobs.
Some of Berlin's partners, including big neighbour France, are holding out hope that the entry of the SPD into her government could lead to changes in Merkel's European policy, but if there is a shift, it is likely to be more rhetorical than substantive.
The SPD quietly dropped its support for common euro zone bond issuance last year, bringing it closer to Merkel. Like the chancellor, it opposes debt-financed stimulus programmes to help southern Europe and broadly supports her approach of demanding reforms in exchange for aid.
Gabriel said in his speech that Germany must "fight for Europe", pointing out that 40 percent German exports go to euro zone partners and 60 percent to the broader EU.
"How would our country look, our industry, our unemployment levels, if this wasn't the case, if Europe, the main destination for German products, was brought to its knees?" he said.
In the coalition talks, which are due to begin on Wednesday and could last a month or more, Gabriel said the SPD would push for stricter regulation of banks and a stronger contribution of the financial industry to the costs of Europe's crisis.
The SPD is a strong advocate of a financial transactions tax and, while it supports Europe's efforts to create a banking union, believes that bank creditors, rather than taxpayers, should shoulder most of the costs of shutting down ailing institutions.