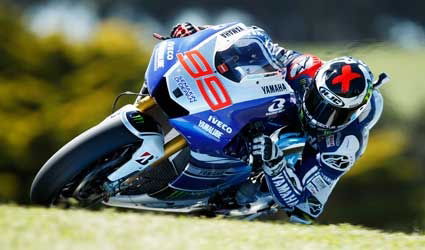 MELBOURNE (Reuters) – The MotoGP championship is within tantalising reach of rookie sensation Marc Marquez at Sunday's Australian Grand Prix but Jorge Lorenzo is determined to put his callow compatriot in his place for at least another round of the title race.
Victory for Honda rider Marquez at Phillip Island's picturesque seaside circuit combined with anything worse than second place for Lorenzo will make the 20-year-old the youngest world champion with two races to spare.
Title-holder Lorenzo, however, fancies his chances on an exhilarating track where the Yamaha rider has been quick, if not victorious, in five premier class appearances.
Two-time world champion Casey Stoner shut out all contenders with a record reign of six straight wins at his home grand prix, but Lorenzo came closest last year and in 2010.
The Spaniard's watchful runner-up finish was enough for him to seal his second MotoGP title last year, and with Stoner retired, the affable Spaniard might have believed he was on the brink of a sustained period of dominance.
Enter 20-year-old Marquez, whose impact in his first season has raised comparisons with the brash arrival of Italian great Valentino Rossi over a decade ago.
Despite pressure building at the business end of the season, Marquez has shown ice in his veins, and struck a psychological blow against Lorenzo by passing the 26-year-old with 11 laps remaining at Sepang last week.
Content to take the points, Marquez sat back to finish second and allow team mate Dani Pedrosa the win in Malaysia, setting up what could be a decisive battle with Lorenzo Down Under.
A defiant Lorenzo said he would fight for the title to the end this week and laid a good marker on Friday by topping the time sheets in free practice, while Marquez and Pedrosa both had stumbles in brilliant sunshine at Phillip Island.
Lorenzo's fastest lap of one minute 28.961 seconds in the second session was 0.294 seconds better than Marquez's quickest on new tarmac laid at the circuit.
"I feel that here we are much more competitive than in Malaysia," Lorenzo said.
"In general, every step we make with the bike works so little by little we have improved and been faster."
Marquez came off just six minutes into the second session when his back wheel slipped. He appeared to land heavily but returned to the pits and emerged 20 minutes later for another run.
Pedrosa, who posted the fourth fastest lap behind Alvaro Bautista, went off the track at turn two during the second session with a loose engine mounting bolt.
Marquez will be out to take pole position for the ninth time this season in Saturday's qualifying.