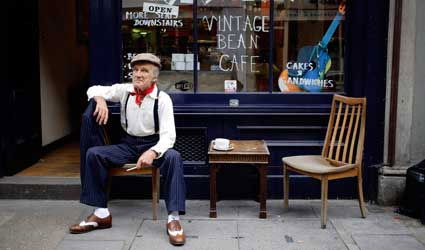 LONDON (Reuters) – Britain's small and medium-sized businesses are more confident about their prospects than they have been for three years but still want banks and the government to do more on funding, a survey by software company Sage said.
Business confidence in Britain rose 4.1 points on 2012, to 62.55 out of 100, ahead of all the euro zone countries surveyed, including France, Portugal, Spain and Germany, according to the poll of more than 11,000 enterprises across 17 countries.
But more than half said British companies were not getting the financial support to grow, with 54 percent saying banks were not doing enough, and nearly three quarters saying the government needed to put more pressure on lenders.
Sage Chief Executive Guy Berruyer said in an interview that good news on the British economy in the last six months, including the IMF upgrading its growth forecast earlier this month, had filtered down to SMEs.
"However, if businesses are to take advantage of the upsurge of economic confidence, then they need access to a wide range of funding sources," he said.
"Confidence is returning; a lack of support and access to finance now for small businesses could have a detrimental effect."
The Bank of England and many analysts have raised concerns over the availability of loans for small businesses, saying the lack of credit has been holding back Britain's recovery from prolonged stagnation.
The government and central bank launched their Funding for Lending Scheme a year ago to make cheap loans available to banks on the condition that they lend it on to households and firms.