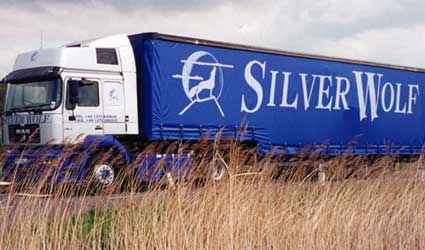 IF you need anything transported – from a parcel to a full load of 25 tonnes – Silver Wolf is the firm to use.
Silver Wolf offers a wide range of transport services between the UK, Spain, Gibraltar and North Africa.
Established in 1990 Silver Wolf transport everything from a parcel to a full load of and has a specialist relocation and removal department. A new small parcel service, delivered from the UK depot near London to "your door" has also been launched.
With its high level of service and reliability it is no wonder that Silver Wolf has built up a large customer base. And its flexible approach also helps customers happy.
 It doesn't matter if the customeris a business or an individual; all members of staff consider every shipment equally important and do everything possible to deliver goods on time and in good condition.
Although Spain and Gibraltar are the main destinations served by Silver Wolf the company also carrys goods throughout the world by road, sea and air.
There are a minimum of three departures by road per week from the UK to Gibraltar, to Spain…..  Malaga, Cadiz, Seville, Granada, Madrid, Almeria and to North Africa….Casablanca, Tangiers and Rabat.
For business customers, groupage, part load, full load and express goods services are all offered.
For individuals, everything from a few cherished items to a full removal/relocation. Chilled cargo and temperature controlled goods are also transported in refrigerated trailers to and from the UK. Silver Wolf offer a fast and reliable service at a competitive price.
The receiving depots are in London, Malaga, Madrid, Gibraltar and Casablanca and can be contacted on [email protected]
You can also send any enquiry through their website at www.silverwolfuk.com