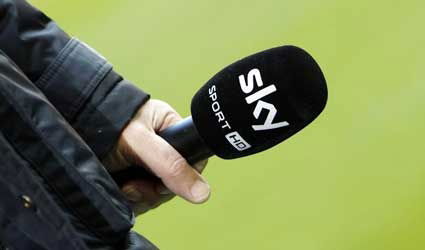 LONDON (Reuters) – Britain's dominant pay-TV provider BSkyB shrugged off the launch of rival BT's new sports service with strong customer demand for its TV and broadband services, sending its shares to a near 12-year high.
BT, a former telecoms monopoly, in August launched a new TV service showing Premier League football free to its existing broadband customers in a bold attempt to hold on to its core subscribers who had been moving to BSkyB in droves.
The offering is the biggest challenge to BSkyB since Rupert Murdoch launched the pay-TV group more than 20 years ago. It had managed to grow during the economic downturn by selling more services to its existing base, such as broadband, as it became tougher to sign up new customers.
On Thursday the company, 39 percent owned by Murdoch's 21st Century Fox, said it had added 111,000 broadband customers in the three months to the end of September – the first quarter of its financial year – up 9 percent compared with the same period last year.
That number, which also includes customers in Ireland, is comfortably ahead of analyst forecasts of around 80,000.
The broadband additions means BSkyB now has more than 5 million broadband subscribers, fast catching up with BT on 6.8 million.
It also added 37,000 new customers to its TV offering, taking the number of new, paid-for subscription products sold in the quarter to 800,000, up 50 percent on the year.
The 37,000 TV additions was comfortably ahead of the 20,000 it added in the first quarter last year but that did not include those viewers who accessed Sky TV via Now TV, an online offering which enables consumers to pay for Sky for 24 hours.