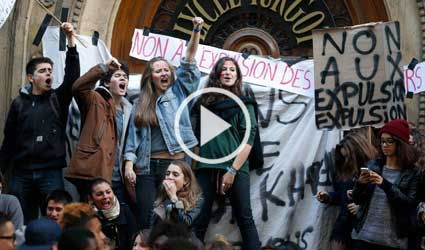 PARIS (Reuters) – A 15-year-old girl taken off a school bus and deported to Kosovo has become the latest focus of France's agonised debate over migration, putting Interior Minister Manuel Valls under fire from his own Socialist lawmakers.
Pupils blockaded several high schools in the Paris region on Thursday in protest at expulsions as the government sought to deflect blame from Valls, promising to review the treatment of Leonarda Dibrani, whose family entered France illegally in 2009 and had exhausted legal appeals against expulsion.
Some Socialist lawmakers accused Valls, the most popular minister in President Francois Hollande's government, of betraying the left's values with tough immigration policies that led to the girl's arrest during a class outing.
Valls has stepped up rhetoric against Roma migrants living in illegal camps in French cities as support for the far-right anti-immigration National Front has surged in opinion polls ahead of municipal and European elections next year.
Government spokeswoman Najat Vallaud-Belkacem defended the minister and rebuffed calls for his resignation, urging patience while the incident is investigated.
"If a school bus was indeed stopped and a child extracted in full view of her classmates, then that is indeed shocking," she told RTL radio. "But today, it's not clear things happened that way."
On Wednesday, Prime Minister Jean-Marc Ayrault told parliament that Dibrani, now back in Kosovo with her family, would be readmitted to France if the probe found that police had broken rules by arresting her on school property.
But the uproar showed no signs of abating, with hundreds of high school students demonstrating outside some 20 schools over the expulsion of Dibrani and another student of Armenian descent in a separate case.
The Socialist speaker of the lower house of parliament, Claude Bartolone, said the left risked "losing its soul", and Frederic Hocquard, a leader party member, asked in a Tweet: "When do we take action to distance Valls from the government?"
After initially dismissing the criticism as "sterile polemics", Valls was forced to fend off charges of betraying the left during a trip to the French Caribbean island of Martinique.
"I am of the left because I believe we need policies that uphold the rule of law, human rights and humanity, but also a strong and clear policy to regulate migratory flows," he said.
School property should be off limits to police intervention, he added.
The police have said they were carrying out orders after the family's application for political asylum was turned down on grounds of "insufficient prospect of social and economic integration" in France.
Dibrani, who is of Roma descent, told French media this week that she felt ashamed at being detained in front of her schoolmates, wanted to return to France and felt lost in Kosovo.