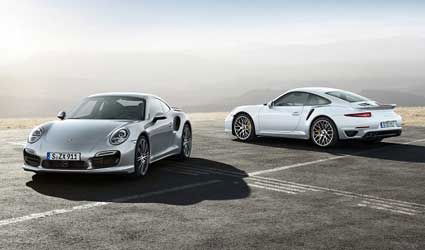 TO coincide with the 40th anniversary of the 911 Turbo, Porsche has presented the open-top versions of the new generation 911 Turbo and 911 Turbo S.
Making their worldwide debut at the Auto Show in Los Angeles in November, the two new models will double Porsche's 911 series to four versions.
The 911 Turbo Cabriolet and 911 Turbo S Cabriolet deliver the same performance and efficiency offered by the 911 Coupe model unveiled a few months ago.
The turbocharged 3.8-litre six-cylinder engine delivers 520 bhp (383 kW) in the open-top 911 Turbo and 560 bhp (412 kW) in the S model.
The cars accelerate from zero to 100 km/h in 3.5 and 3.2 seconds respectively, reaching a top speed of up to 318 km/h.
Both of the new models comply with the New European Driving Cycle (NEDC), offering figures of 9.9 l/100 km (equivalent to 231 g/km CO2).
The open-top 911 Turbo models come with PDK dual-clutch transmission as standard, as well as the new PTM all-wheel drive and rear-axle steering.
The new models will be available from December, with prices that range from €200,211 for the Turbo to €238,492 for the Turbo S, VAT included.
They feature widely flared rear wings and Porsche's exclusive panel bow top with magnesium frame.
This technology enables the Coupe-like arch to the roof to be achieved when the top is closed.
As with predecessor models, the roof opens and closes in around 13 seconds, at speeds of up to 50 km/h.
The interior of the new Cabriolet models follows that of the 911 Turbo Coupé, with an extensive range of furnishings.
In addition, the backrest shells of the seats are leather trimmed with double cap seams, and various elements are achieved in a carbon look.