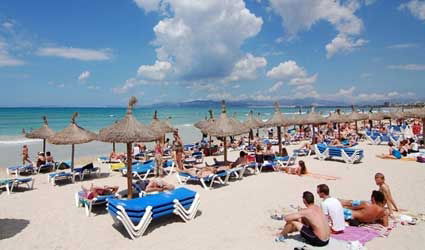 SIX AND A HALF million passengers travelled to the Balearic Islands with a low cost airline up to September this year.
This places the Balearic Islands in second position nationwide for the number of visitors travelling with low cost companies, according to the National Institute of Tourism Studies (IET).
Only Cataluña has received more passengers travelling with a low cost airline, with 6.8 million people.
The Balearic Islands was the region with the most visitors travelling with a low cost company in August, with 27.3 per cent of the national total and a year on year increase of 7.4 per cent.
A total of 1,048,283 people visited the Balearic Islands flying with a low cost airline.
By airports, Palma airport registered a 7.8 per cent increase in passengers up to September with 5.2 million.
Meanwhile, passengers numbers at Ibiza airport increased by 10.9 per cent reaching 1,111,910 people.
At a national level, 27.9 million passengers took a flight from a low cost airline, a 3.5 per cent increase on 2012.
On a less positive note, traditional airlines saw a decrease of 2 per cent year on year.