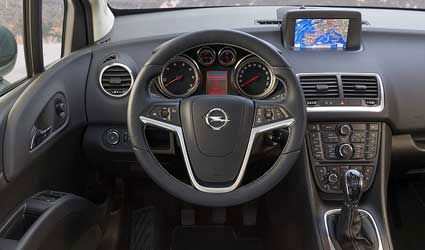 GERMAN manufacturer Opel has presented the new Meriva, an update to the series that will premier worldwide at the Brussels' motor show in January.
The new Meriva benefits from many improvements that give it a more refined appearance.
The front fascia features a new grille framed by front headlights that, for the first time, include LED daytime running lights.
The car also features 17 and 18 inch wheels, becoming the only small monocab offering this option according to the German manufacturer.
The new Meriva comes with Opel's new generation diesel engine  the 1.6 CDTI that had its debut in the Zafira Tourer.
This diesel is initially available in the power variant 100 kW/136 hp and delivers 320 Newtons of maximum torque.
It consumes just 4.4 litres per 100 kilometres and emits 116 grams of CO2 per kilometre, 10 per cent less than its 96 kW/130 hp, 1.7 predecessor.
In addition to the 1.6 diesel, all petrol engines and the LPG variant in the new Meriva already comply with the Euro 6 emissions limits.
The 1.4 litre petrol engines (88 kW/120 hp and 103 kW/140 hp) are now also offered in combination with a reworked low-friction six-speed automatic transmission.
As for the five and six-speed manual gearboxes, these have been upgraded to offer more precisegear changes.
The Meriva also receives a new IntelliLink infotainment system enabling seamless smartphone integration into the vehicle.
The system features Bluetooth hand-free phone connectivity and audio streaming, and additional connectivity via USB.
Navigation in embedded into the system, and destinations can be entered via voice recognition. Map updates can be downloaded via USB.
The car's interior benefits from a re-designed central console and increased rear passenger legroom in the central seat.
The patented FlexDoors system is less intrusive on rear passenger space than sliding doors.
Doors open out at an 84 degree angle and facilitate, for example, the easy installation of child safety seats on both sides of the rear seat.
In addition, the interior cabin can turn into a five, four, three and two seater thanks to the FlexSpace-Rear-Seating system by Opel.
Prices of the Meriva will be announced in November when its order books are opened, and the first cars will be delivered to customers as of the third week of January.