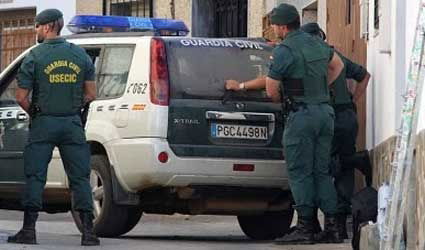 THE man who allegedly killed his sister with a shotgun in a Gergal street and injured two others has been arrested.
After 74 hours on the run during which time Juan Leon Castillo, alias Cascapolos, led the police a merry dance, he was finally arrested on a hillside on the outskirts of the town.
Sixty hours after the killing, witnesses saw him enter a basement of a property, ironically the property of the neighbour wounded during the attack. From there he made his way to his own house.
Officers cordoned off all access to the town's main square and adjoining streets.
House by house agents alerted neighbours to the risk. Some left their homes with suitcases or bags and others closed doors and windows.
More than 50 officers surrounded the house where the fugitive was hiding and then began negotiations.
A few hundred yards from the crime scene photographers and television cameras waited for developments. And in the silence of the night an agent at the window of the house tried to speak with Leon.
But despite police talking to him every 20 to 30 minutes he managed to escape the cordon. It was not until a neighbour spotted him and reported the sighting to police that the search resumed.
He was eventually caught hiding in a gully near the town and was arrested.