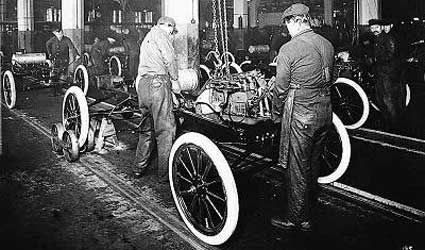 FORD Motor Company has celebrated the 100th anniversary of the moving assembly line designed under the leadership of Henry Ford.
The moving assembly line, regarded as the world's greatest contribution to modern manufacturing, was first used at the Ford Highland Park plant in Michigan.
The new process simplified the assembly of the Ford Model T's 3,000 parts by breaking it into 84 distinct steps performed by groups of workers as a rope pulled the vehicle chassis down the line.
This dropped the assembly time for a single vehicle from 12 hours to about 90 minutes.
As a consequence, Ford was able to drop the price of the Model T from $850, the equivalent to $20,080 today, to $300 ($7,087). This, considering the average annual income at the time in the US was of approximately $15,000, made the vehicle affordable to the masses.
Eventually, a Model T was built every 24 seconds, selling more than 15 million worldwide by 1927 according to the manufacturer's data.
The success of this new approach quickly spread worldwide in the automotive industry, with other companies using the assembly line in their production.
The assembly line, together with Ford's safety procedures, led to the coinage of the term Fordism to refer to an economic and social system based on a standardised form of mass production.