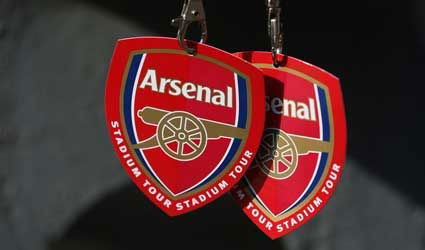 LONDON (Reuters) – Arsenal owner Stan Kroenke will not be satisfied until the Premier League club has ended a barren run dating back to 2005, reassuring fans on Thursday about his ambitions for the team.
Some Arsenal supporters have accused American sports entrepreneur Kroenke of putting profit before success on the field, angry at the departure of top players Cesc Fabregas and Robin van Persie in recent seasons.
"Nobody is happy until we win championships and trophies," Kroenke told shareholders at the club's annual meeting.
"Nothing works unless we have success on the pitch," he added, saying that he had invested in the club because of its tradition, image and long history of winning things.
Kroenke first bought into Arsenal in 2007 and became the controlling shareholder in 2011 in a deal valuing the club at 731 million pounds (721.03 million pounds).
The arrival of Mesut Ozil for a record 42.5 million pounds ($68 million) has helped Arsenal to move to the top of the Premier League and lifted the mood among supporters.
Manager Arsene Wenger said he was pleased with the team's progress in the Premier League but noted that he would have a clearer idea of where they stood at the end of November.
He said the signing of Ozil from Real Madrid showed that he was prepared to spend heavily when the right player became available.
"You don't need any scout to buy Ozil. Just give money," he joked to shareholders during the meeting at the club's Emirates Stadium.
Wenger said the level of investment in European football from around the globe was making it tougher to win the Champions League, saying as many as 10 teams had the potential to lift the trophy.
Arsenal have qualified for the lucrative Champions League for 16 successive seasons under Wenger but have never won Europe's top prize.
The north London club last won the Premier League in 2004 and have not lifted a major trophy since the FA Cup in 2005.