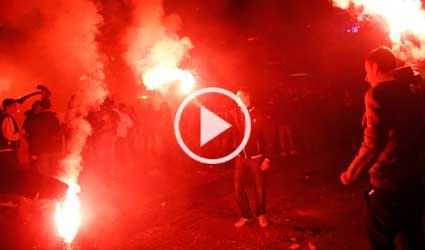 SARAJEVO (Reuters) – Flares and fireworks lit up the Sarajevo sky as thousands of inhabitants flocked to the city's streets to celebrate deep into the early hours of Wednesday morning in recognition of Bosnia's successful World Cup campaign.
The scenes of utter joy provided a stark contrast to the brutal 1992-95 siege of the Bosnian capital, which produced some of the most harrowing images of a conflict that claimed the lives of around 100,000 people in a former Yugoslav republic that remains hostage to nationalist and political interests.
Finally it was an opportunity to release an outpouring of elation for Bosnians, who reached their first major football tournament as an independent nation when Tuesday's 1-0 win in Lithuania booked their ticket to next year's finals in Brazil.
Donning national team shirts and wrapped in flags and scarves, Sarajevo inhabitants and those who poured into the city from other parts of the country celebrated the historic success as a seemingly endless motorcade blocked streets once littered with victims of snipers and mortar shells.
"This is a lesson to everyone in Bosnia what can be achieved with hard work, persistence and talent," Austrian diplomat and High Representative of Bosnia Valentin Inzko told FACE TV in the Lithuanian capital Kaunas after the joyous national team mobbed their coach Safet Susic.
"This victory reaches beyond the boundaries of sport and it is a message to all good-willed people in the country that a better future is possible. The citizens of Bosnia-Herzegovina can be proud of their national soccer team," he told the Sarajevo-based television channel.
Nearly two decades after the conflict, Bosnia remains a dysfunctional country marred by ethnic divisions, political instability and economic hardship, with the bickering of rival Serb, Muslim and Croat leaders slowing down its progress towards the European Union.
A U.S.-brokered peace deal silenced the guns but created a system of ethnic power-sharing so unwieldy that the process of governing often grinds to a halt, stifling recovery and reform in a country where 28 percent of the population are unemployed.
The prospect of playing in the World Cup has, in the short term, put aside worries about delayed wages and low pensions, and instilled hope that politicians can follow in the footsteps of the national football team, a rare beacon of light and unity.
"This victory means everything to me," 51-year old physician Sanja Mandic told Reuters as jubilant youths flocked towards the giant fan zone in downtown Sarajevo, where the team joined supporters in late night celebrations after returning from Lithuania.
"I love them so much, they are the only bright thing in our lives and a glimmer of hope in these terrible times."
Credit: Zoomin.TV UK (YouTube)