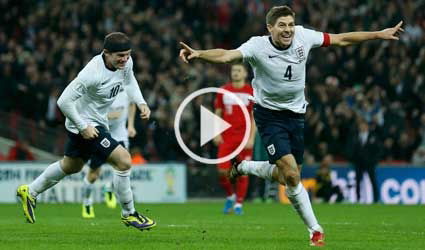 LONDON (Reuters) – Wayne Rooney and Steven Gerrard scored to send England to the World Cup finals with a 2-0 victory over Poland on Tuesday that gave them top spot in qualifying Group H on a thrilling and nervy night at Wembley.
Rooney's 41st-minute breakthrough was brilliantly created and executed after a patient England build-up gathered pace when Leighton Baines crossed for the Manchester United striker, who nodded the ball down and wide of keeper Wojciech Szczesny.
The match was played on a knife-edge as anything other than a win would have consigned England to a potentially difficult two-legged playoff tie, with group rivals Ukraine cruising to an easy win over San Marino.
But midfielder Gerrard sparked English celebrations when he put the outcome beyond doubt in the 88th minute, cutting inside, bursting into the area and poking the ball past Szczesny.
England, unbeaten in their qualifying campaign, finish top of the section with 22 points, with Ukraine, who go into the playoffs, second on 21.
Manager Roy Hodgson, widely criticised after England's 0-0 draw in Ukraine in September, said he had a feeling of great satisfaction – and joked that Gerrard's late goal had taken "about 10 years" off his life.
"It was a tough group. Poland, Montenegro and Ukraine have shown themselves to be very good opponents," Hodgson told ITV.
"I thought the players played some sensational football in the first half, and in the second, when Poland attacked more, they dug in very well and controlled them.
"We've been getting better all the time. We always said if we could get to the last two games we'd be stronger."
Asked how the current team compared with the side beaten on penalties by Italy in the quarter-finals of the European Championship in 2012, Hodgson, who took Switzerland to the 1994 World Cup, said: "I would like to think we are a lot better.
"We've been working together for 18 months and the way we play has changed. We're getting better all the time, and I'd like to think in the months ahead we can get better still, as long as we can keep these players together."