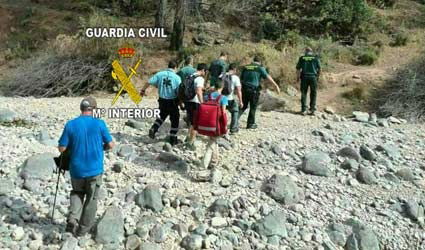 GUARDIA CIVIL rescued a man who fainted while hiking in the Puerta Lifa area of the Serrania de Ronda.
The Guardia Civil in the area received a call telling them that the man, who was diabetic, had fainted after his blood pressure dropped and needed help.
They had to carry him on a stretch down a steep slope to an ambulance which took him to Ronda regional hospital.
Two days later, also in Ronda, National Police saved a man, 26, who intended to jump off a bridge into the Guadalevin River. He was standing on one of the balconies of the Puente Nuevo, over the Tajo (gorge) and when police got there, he was on the outside of the bars, threatening to jump.
One of the officers attempted to calm him down while holding on to him from inside the balcony, while another grabbed his legs from the adjoining wall. One of them was pulled to the outside of the balcony due to the weight and strength of the man, who was eventually pulled to safety.