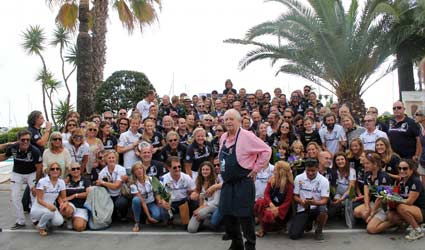 THERE are yacht races and there are cooking contests and Teulada-Moraira recently combined them. 
It came up with the Gourmet Race, an event organised by the local Club Nautico and Teulada Town Hall's Tourism department.
As the 26 competing boats sailed the two-hour course, down in each galley they had to produce a dish based one main ingredient: 300 grammes of monkfish.
Once on dry land, the food was tested and tasted by a jury headed by one of Spain's most revered and influential chefs, Juan Mari Arzak. 
He was accompanied by Igor Zalakain, chef at the Laboratorio de Arzak restaurant in San Sebastian, Lluis Ruiz of Gastronostrum magazine and Fernando Jover of Grupo Gourmets.  Also present was Teulada-Moraira's mayor Antoni Joan Bertomeu.
The dish produced by the Swiss Hotel Moraira's boat was pronounced the winner.
This was the first time he had been part of a jury quite like this one, Arzak admitted, but it has been an experience he was delighted to share.  He was equally delighted by the Gourmet Race's setting on "a beautiful coast," he said.