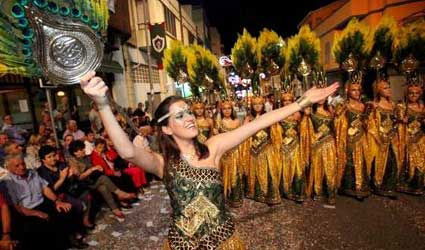 WOMEN were on an equal footing with men for the first time during Callosa's recent fiestas.
The town has been celebrating Moors and Christians fiestas for 153 years, with women playing an increasingly prominent part for the last 30. 
But although allowed to form their own groups or filaes these have always been part of, and subordinate to, the male companies.
The women's groups are now independent and the final barrier was lifted with the removal of a veto that prevented women from occupy leading roles during the celebrations.
In Callosa as elsewhere, Moors and Christians celebrations re-enact a Moorish invasion followed by a mock battle and the Christian band's eventual victory.   
To underline the fiestas' emancipation, this year's Christian ambassador was a woman, Ainhoa Lopez Duran. 
Coming years could see women as standard-bearers or leading the combined troops of either band, Ainhoa said.
She had received a great deal of support, she added, although she was aware that not everyone had supported the decision to have a woman ambassador.
"But the Fiesta has to evolve.  With as many women as men taking part, it wasn't logical not to be equal, independent and with the same rights," she argued.