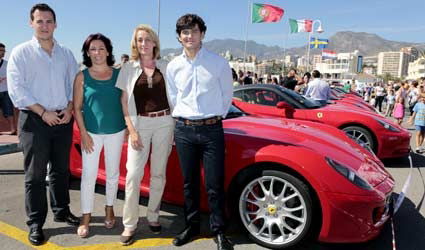 A TOUCH of Italian glamour attracted more than 300 people to Benalmadena Marina for a Ferrari rally.
The event was organised by the Ferrari Owners Club Andalucia with the collaboration of the town hall, and brought together 20 of the luxury cars which made a trip around the marina for everyone to see.
The mayor, Paloma Garcia, attended the event accompanied by several other members of the local council and congratulated the organisers on its success. This is the third time the event has been held in the marina, and the mayor thanked them for choosing the location once again to attract people to the area and boost business. She added that she hoped it would be held at the marina in years to come and said that the town hall would make the facilities available to them any time they wanted.
The Port Manager, Jose Manuel Lopez, also thanked the Ferrari Owners Club for how well they had organised the event and remarked on how many people had come to the marina to get a closer look at the sports cars.