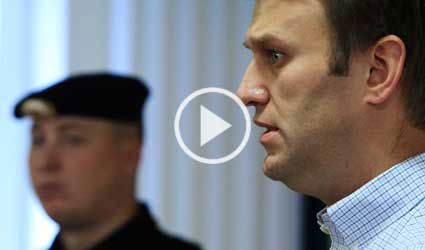 KIROV, Russia (Reuters) – Russian opposition leader Alexei Navalny's conviction for theft was upheld by an appeals court on Wednesday but his five-year jail sentence was suspended, allowing the prominent critic of President Vladimir Putin to walk free.
The conviction, however, will prevent Navalny, who emerged from a wave of street protests as the most prominent opposition leader, from seeking elected office for years. He said he would appeal.
Navalny was convicted in July of organising the theft of 16 million roubles ($500,000) from a timber firm in 2009. He had appealed the verdict and sentence, contending the case against him was fabricated and politically motivated.
"It's clear for me that the authorities are trying by all means to hound me out of politics, coming up with some restrictions and fabricated cases," he said after embracing his wife following the ruling in the provincial city of Kirov.
"One thing is for sure, they will not succeed in pushing me and my allies out of political life," said Navalny, who posted a strong second-place showing against a Putin ally in a Moscow mayoral election last month.
Jailing Navalny would have increased the risk of a new wave of opposition protests against Putin and done further damage to his image in the West as Russia prepares to host the 2014 Winter Olympics in February.