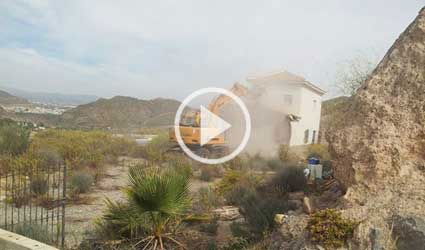 TWO homes owned by innocent British expatriates have been reduced to rubble after a planning row.
The bulldozers moved in and demolished the homes in Las Terreras, Cantoria, which were illegally built but bought in good faith.
Former Mayor of Cantoria Pedro Llamas was jailed for two years in a case related to the homes.
Neighbours were left stunned on Monday at what they were seeing. With a strong security presence, representatives of the Junta de Andalucia fulfilled the demolition order hanging over two of the four homes built by a local builder.
Within a matter of 40 minutes the houses were reduced to rubble.
The houses, which belong to retired British families, were not inhabited.
It is believed that three of the four families have returned to the UK. In August 2004, the Junta opened disciplinary proceedings against the builder following a complaint by the Service for the Protection of Nature (Seprona) Civil Guard against the clearing of the land without permission. It ended with the builder being fined, ordered to restore the area to its previous state and compensate the owners.
Maura Hillen, spokesperson of Urbanisticos Abuses Almanzora No (AUAN), visited the site and found that there were only heaps of rubble and some personal items, testimony that people once lived there.
She said: "The judge's order indicates that the buyers have purchased the property in good faith, so they must be compensated. But it seems the town hall is not responsible and the developer is insolvent.
"This is an attack on human rights. Nobody knows how to compensate these families and all they have left is rubble."
Maura has been very critical of the way in which planning infractions are managed.
"If you had the misfortune to have a file opened on you, you can become homeless, but if you have a house next door, and for some reason that home has not been reported, then nothing happens. It's a lottery."