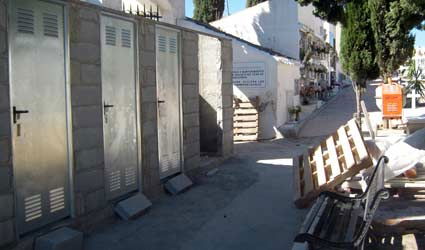 HUMAN remains have been put into bags and thrown in the corner while extension and improvement works are carried out at a local cemetery.
That is the claim of Carmen Mellado, a socialist councillor in Cantoria, who added that the conservative Partido Popular is 'disrespecting the dead'.
Town hall workers have been working at the cemetery for over a year 'without any justification,' according to the leader of the opposition, while the area as a whole is full of 'weeds and rubbish'.
The PSOE has bemoaned 'the lack of respect for the dead, to the extent of  removing human remains from graves and putting them in bags.
In addition , said Mellado, 'the PP has given orders to build toilets on top of the tomb in which allegedly the first Countess of La Algaida and first Marquesa del Almanzora, Catalina Navarro Casanova has lain for 100 years.
'The workers say they have not removed the remains of this historic woman, and we fear that the remains are still there," said Mellado.
However the Mayor of Cantoria, Gaspar Masegosa has hit back at these allegations, saying  that "the removal of the remains from the niches that were moved, has been done in all cases with the permission of the family and all who wished to be present have been present." He added : "Even the socialist councillor who is making these claims  gave us permission just like the rest, and witnessed how they are doing the work in Cantoria, therefore I can not understand how she can lie.
"These are despicable claims, we're talking about a very sensitive issue for citizens and you can not say in any case that we do not respect the  living nor the dead .
According to reports, work has been carried out by a specialised company in the afternoon and in the presence of family members. "Nobody has complained, on the contrary, they are all happy now the deceased can rest in the conditions that they deserve."
With reference to the tomb of the Marquesa de Almanzora, the mayor said: "She is well aware that the remains of the Marquesa are not there. She knows that the family moved them to Cuevas del Almanzora many years ago."