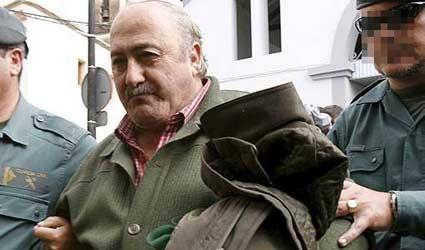 ALCAUCIN's former mayor Jose Manuel Martin Alba is facing a 226 year prison sentence for his alleged implication in the 'Arcos' urban planning corruption case.
The Anti-corruption Prosecutor's Office has also asked Martin Alba to be banned from public office for 700 years.
The ex-mayor has been accused of fraud, embezzlement, document falsification, bribery, money laundering and influence peddling.
The former Assistant Chief of Architecture of Malaga Provincial Government, Jose Francisco Mora, is also facing a prison sentence.
An 11 year prison sentence has been asked for Mora, who is charged with fraud, document falsification, bribery and crimes against territorial planning.
The 'Arcos' case investigation began in 2008, revealing a corruption network which allowed the construction and legalisation of houses built on non-urban land in the Axarquia area.
According to the anti-corruption Prosecutor's Office, urban planning offences multiplied from 1999 to 2010 to try to meet the increasing housing demand in Alcaucin.
As a consequence, the village council developed new urban planning strategies that contravened the regional law.
This resulted in houses being built on rustic land or apartment blocks on non-building land.