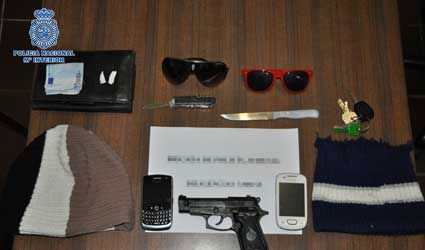 A VELEZ-MALAGA resident has been remanded into custody charged with robbery with violence and illegal weapon possession.
The man is accused of mugging three women, whom he selected as victims while driving his car in the town, National Police said.
Two of these thefts took place in commercial areas of Velez-Malaga, where officers set up a surveillance operation that eventually led to the man's arrest.
Two mobile phones, two wool hats, two sunglasses, two knives and money in cash were seized from the man's car.
A 9mm gun was also seized, for which National Police charged him with alleged illegal weapon possession.