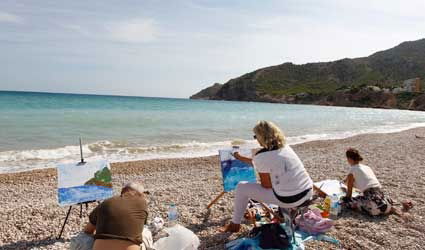 THE fourth edition of the Painters' Gathering was held recently on Albir beach.
It was organised by the ArtAvant Association, with the collaboration of the Alfaz's Culture and Tourism departments. 
Painters met to paint their surroundings between 9.30am and 5.30pm.  Rain was forecast but failed to materialise and the artists spent the day, as the organisers planned, with other painters and art lovers.
ArtAvant provided the canvases but the artists provided their own paints, brushes and palettes.  Technique and the medium chosen were up to the painter.
There were no prizes at the end of the day, apart from the reward of the satisfaction to be found in painting.  The pictures will soon be put on public display by the town hall's Culture department.
The ArtAvant association was founded in 2007 and now has 21 members who participate throughout the year in different activities that include talks, conferences, workshops, exhibitions held locally and further afield.  It also organises classes for adults and children from October until June at Alfaz's Casa de Culture, held each Thusday from 5.30pm until 6.45pm.