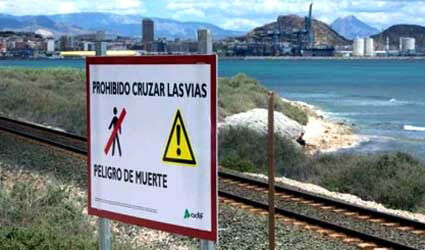 FAMILIES of those killed on the railway in Aguamarga, Alicante are calling for the 'blackspot' to be made safer.
They are calling on the Office for Harmonisation in the Internal Market (OHIM) to demand a gateway be built preventing people from attempting to cross the track. A petition of 13,000 signatures calling for fencing in the area to prevent further fatal accidents has been raised.
Lola Camacho, whose son and his girlfriend died in October 2012 said the problem can be solved with 'minimal' investment. She encouraged people to join them at the San Gabriel site on Sunday at 11.30am to hold a five minutes silence for victims.