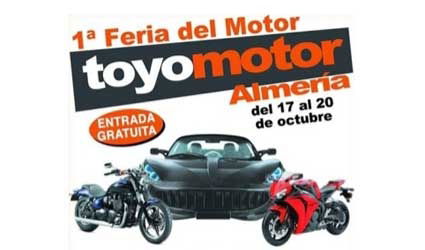 THE Palacio de Congresos of El Toyo is hosting its first Motor Fair, Toyomotor Almeria.
The event starts on Thursday and continues until Sunday. Five hundred cars and 150 motorcycles will be on display and will feature the participation of all major brands  offering great deals for people interested in purchasing a vehicle .
Head of Almeria Tourism, Juan Jose Alonso said: "This type of event shows  collaboration within an industry that has been hard hit by the crisis and will highlight all  the best products to the public.
"This is a major event with the high number of participants with all kinds of activities planned for the attending public and for all ages."
Among the activities are a race track, a motorcycle test track and an exhibition of vintage cars.
There will also be activities for children such as face painting, balloons and a bouncy castle as well as a catering area.There will be the chance to see the winning car from the Mountain Rally of Spain. Admission is free and opening hours are Thursday 5pm to 8.30 pm then Friday to Sunday 11am to 8.30pm.