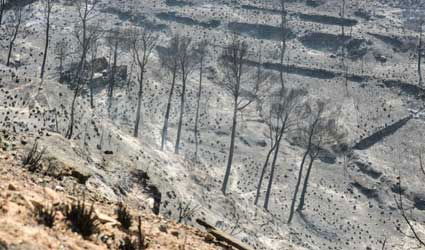 RESTORING the 2,400-hectares of the Tramuntana Mountains ravaged by fire this summer, will cost at least €2.5 million.
According to the Balearic Government, this amount could increase to €4.5 million.
The Department of Agriculture, Environment and Territory has presented a draft of the Environmental Restoration Plan for the areas of Andratx, Estellencs and Calvia where plant and animal life were devastated by fire between July 19 and August 13 this year..
The head of the department, Biel Company, has said that conversations have been held over the past months to guarantee that the area will receive financial aid.
The head of the Forest Management and Land Protection Service, Luis Berbiela, pointed out that the aim of the plan is also to make the area less vulnerable to fires in the future.
The draft has been drawn up by biologists, forestry engineers and other specialists, and includes work to improve safety over 205 hectares, work to prevent the erosion of 850 hectares, and the regeneration of forests covering 56 hectares.
So far, more than €324,000 has been raised thanks to donations from companies and local citizens.