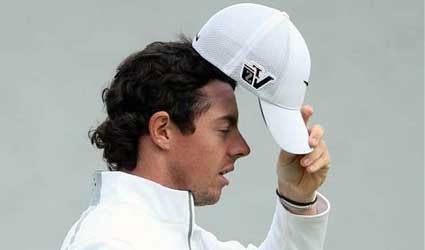 (Reuters) – Former world number one golfer Rory McIlroy's split with leading tennis player Caroline Wozniacki is the latest chapter in a frustrating year for the young Northern Irishman.
Media reports on Monday said the twice major winner had ended his two-year relationship with ex-tennis number one Wozniacki, the news coming on the same day that McIlroy began legal action in a Dublin court against former management company Horizon Sports.
Neither side explained the reasons for the 24-year-old's decision to part company with Horizon but media reports said the golfer was unhappy with the commission the Dublin firm was charging for its services.
Horizon said it was disappointed McIlroy had ended a contract that had a number of years left to run.
"Since October 2011 Horizon has achieved exceptional results for Rory in realising his commercial objectives," the company said in a statement.
"Under Horizon's management Rory has signed some of the most lucrative endorsements in sports history."
McIlroy and Dane Wozniacki, who has slipped to number nine in the tennis rankings, were one of sport's glamour couples and were frequently seen supporting each other when their hectic schedules allowed.
The Daily Telegraph said the 23-year-old Wozniacki was "absolutely devastated" about the breakdown of her relationship with the 2011 U.S. Open and 2012 U.S. PGA champion.
McIlroy started the year on top of the world. He was number one in the rankings and in January signed a 10-year contract with club manufacturers Nike that, according to media reports, is worth $250 million (156 million pounds).
However, it has been downhill all the way since then, both on and off the course.
McIlroy won five tournaments in 2013 but he is still waiting to chalk up his first victory this season and has slumped to sixth in the world rankings.