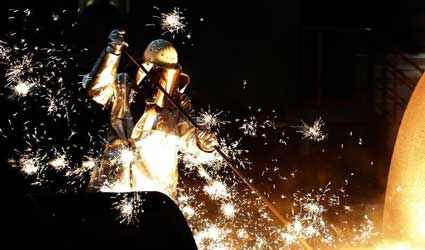 BRUSSELS (Reuters) – Output from the euro zone factories returned to growth more strongly than expected in August, showing its strongest expansion in more than two years driven by a rebound across all sectors.
Industrial production in the bloc of 17 countries sharing the euro jumped by 1.0 percent on the month in August, after an upwardly revised 1.0 percent drop in July, the EU's statistics office Eurostat said on Monday.
Economists in a Reuters poll saw the bloc's output up by 0.8 percent on the month, from the previously reported 1.5 percent decline.
Compared with the same period last year, industrial production fell by 2.1 percent in August after a upwardly revised 1.9 percent decline in July.
The 9.5 trillion euro economy is awakening from an 18-month-long economic downturn but the recovery is seen staying slender as countries suffer from record unemployment rates, weak market confidence and the impact of austerity on their economies.
Capital goods production surged by 2.4 percent in August after a 1.8 drop the previous month, while production of durable goods, such as cars and electronics, was up by 0.8 percent from a 1.8 fall the previous month.
Output in four out of the bloc's five largest economies was up in August, with only the third biggest, Italy, down by 0.3 percent.
Italian industrial output fell unexpectedly for the second month running in August, pouring cold water on hopes that the bloc's third largest economy might emerge from its longest post-war recession in the third quarter.
Europe's strongest economy Germany, in the process of forming a new coalition led by Chancellor Angela Merkel, reported a 1.8 percent rise and France was up by 0.2 percent, after three consecutive months of decline.
Germany, France and Italy make up two-thirds of the overall euro zone's industrial production.
Portugal, heading for an exit from an international financial assistance programme next year, saw a 8.2 percent rise in August, the strongest in two years.