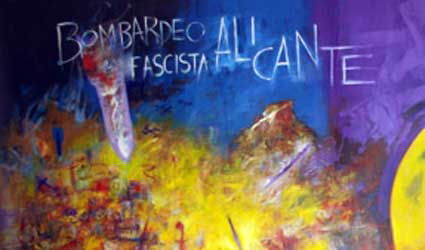 IN May 1938, the Italian air force bombed Alicante city's food market.
At least 300 people died and 1,000 were injured.
Spanish author Victorio Sanchez, now in his 70s, narrowly escaped death during that raid.
The writer, who is also president of the non-profit organisation "Icas Marenostrum," decided to commission a painting based on the bombing from Alcoy artist Manuel Solbes Arjona.
The choice was fitting, as the Italian air force carried out seven bombing raids on Alcoy between September 1938 and February1939, killing 64 people. 
Solbes Arjona's 4.80 x 2.80 metre picture can be seen in Alcoy's Hotel Reconquista until October 22.
"The object of this painting is to remind the world that Italy has never apologised for the crimes committed by Mussolini's fascist air force in Alicante," Sanchez told The Euro Weekly News.
He now intends to display the picture in Italy as a reminder of the "cowardly" bombings, he said.