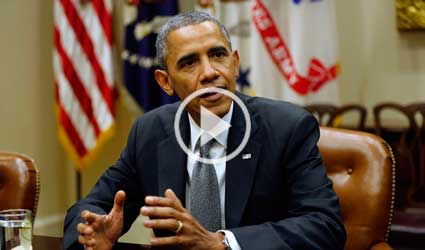 WASHINGTON (Reuters) – Congressional negotiations to end a U.S. fiscal crisis gripping Washington and spooking financial markets hung by a thread on Saturday after bipartisan talks broke down in the House of Representatives and shifted to Senate leaders.
Senate Majority Leader Harry Reid, a Democrat, held an initial session with Senate Republican leader Mitch McConnell. But uncertainty remained about their ability to reach an agreement quickly to end a partial government shutdown and increase the nation's borrowing authority.
Thursday is the deadline for raising the debt ceiling, necessary to avoid a possible government default. The Senate was set to meet on Sunday, but the U.S. House of Representatives was not, so Congress will be cutting it close.
"Economists say it won't be long before financial markets react negatively to this continued uncertainty," Reid said on the Senate floor.
"The life savings of ordinary Americans are at risk."
Among the unresolved issues is the duration of the debt ceiling increase. House Republicans were pushing a boost that would last only six weeks, producing another potential showdown in the middle of the holiday season. Democrats want to push the next debt ceiling deadline at least well into the new year.
Also at issue were government spending levels and Republican concerns about President Barack Obama's signature healthcare law, popularly known as Obamacare. Republican demands for defunding Obamacare led to the shutdown on October 1.
Reid and other Senate Democratic leaders went to the White House to confer with Obama in the afternoon, but said nothing to reporters as they left after an hour and 15 minutes.
At the meeting, Obama and Senate Democratic leaders agreed that talks should continue between Reid and McConnell, a senior party aide said.
"But Democrats' position remained the same: Democrats are willing to negotiate on anything Republicans want to discuss as soon as we reopen the government and pay our bills," the aide added.
Lawmakers are also scrambling to put hundreds of thousands of federal employees back to work after their failure to fund the government resulted in the partial shutdown.
Dick Durbin, the second-ranking Democrat in the Senate, said the goal was to reach a bipartisan deal in the Senate before financial markets reopen on Monday.
But the road to a deal appeared difficult, as Reid dismissed Republican Senator Susan Collins' plan to extend the U.S. debt limit until January 31 and fund the government for six more months.
That plan had given some moderate lawmakers hopes for a quick compromise, but Democrats said it was saddled with too many objectionable add-ons.
Collins expressed disappointment, but said she remained hopeful "that a bipartisan solution to reopen the government and prevent a default is within our reach."
The "preliminary" Reid-McConnell negotiations – at 9 a.m. on Saturday in Reid's office – were launched one day after Obama rejected a proposal by House Republicans for a short-term increase in the debt limit to November 22.
Democrats warned that such a small increase in borrowing authority would simply lead to another round of bitter confrontations in Congress and could choke off consumer confidence just as the Christmas buying season was starting.
The flurry of action in the Senate came as House Speaker John Boehner informed his fellow Republicans in a private meeting that the White House had rejected its proposals and there likely would be no more ideas delivered to Obama now that attention was shifting to Senate negotiations.