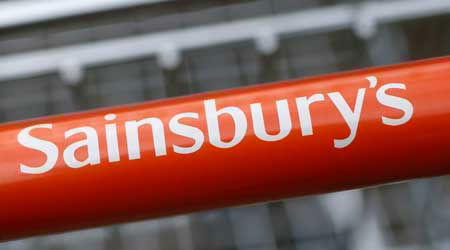 LONDON (Reuters) – J Sainsbury, Britain's No. 3 supermarket, plans to open its first distribution centre dedicated to online grocery orders in response to rapidly increasing demand in southeast England.
Online retailing is one of the fastest growing areas in the grocery industry as shopping habits change and more customers buy their food on the internet.
Sainsbury's, which currently serves all its online grocery customers from traditional stores, said on Sunday that it would open a so-called dark store within three years. It intends to build the dark store, so named because it is not open to the public and will only fulfil online orders, in Bromley-By-Bow, east London.
Though Britain's two biggest grocers – Tesco and Wal-Mart's Asda – largely service online orders by picking up products from existing stores, they have invested in specialist centres in recent years to assist traditional outlets that are unable to keep up with online orders in their areas.
Though the move by Sainsbury's represents a slight strategic shift, the company's director of online, digital and cross-channel operations, Jon Rudoe, said that a store-based model will remain the foundation of its online grocery business.
Sainsbury's online business currently delivers to more than 190,000 customers a week and is growing at a rate of 15 percent a year. It reached annualised sales of 1 billion pounds ($1.59 billion) in September.
Rival Tesco says that annual growth in its British online grocery sales is running at 13 percent.
Sainsbury's declined to say how much it is investing in the new site but said that the 185,000sq ft facility will eventually create 375 jobs. ($1 = 0.6271 British pounds)