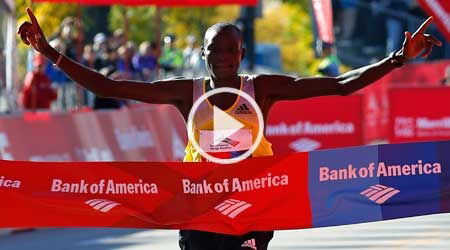 (Reuters)- – Dennis Kimetto and Rita Jeptoo led a Kenyan sweep in contrasting styles at the Chicago marathon on Sunday in a race staged amid heightened security after the Boston marathon bombings in April which killed three people.
Kimetto won the men's race after a gripping duel with compatriot Emmanuel Mutai while Jeptoo cruised to an easy victory to add the Chicago women's crown to the Boston title she won this year.
Taking advantage of ideal conditions, Kimetto covered the 42.195 kms in two hours three minutes 45 seconds to shatter the course record of 2.04:38 set last year by Ethiopia's Tsegaye Kebede.
Pushed by Mutai, Kimetto had been on world record pace over the closing kilometres but fell short of Wilson Kipsang's mark of 2:03:23 set in Berlin this year.
Kimetto was followed across the line by Mutai, who also broke the course record, while Sammy Kitwara finished third as Kenyans dominated the race by sweeping the top four positions.
"I am happy because I set a course record," said Kimetto during a brief television interview in the finish area. "The conditions were very good."
Jeptoo, who also won the Boston marathon in 2006, showed her class by pulling away from the elite field and smiling and waving to the massive crowd as she completed the route through the Windy City neighborhoods in a time of 2:19.57, the fastest by a woman this year.
Jemima Sumgong Jelegat came home a distant second 53 seconds behind the winner with Russia's Maria Konovalova taking third to prevent another Kenyan podium sweep.
Jeptoo's relaxed victory was in sharp contrast to the punishing battle she waged on the Chicago streets a year ago when she suffered a one-second loss to Atsede Baysa.
"I feel good, I'm happy," said Jeptoo. "This year I trained very, very good because I was training with a new coach.
"I was not 100 percent thinking I am going to win but because of training I believe I ran good."
Security was increased for the race, which attracted 40,000 runners, after the Boston marathon bombings.
A uniformed police presence was noticeable along the entire route while bomb-sniffing dogs roamed the start and finish areas.
Prior to Sunday's race police had already warned they would step random searchers of spectators' bags and any unattended bags would be checked and removed.
For the first time tickets were required to enter the finish area while access to the start was also restricted.
Credit: Sean Donovan (YouTube)