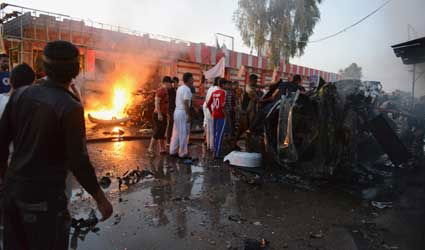 SAMARRA, Iraq (Reuters) – A car bomb exploded in a street lined with shops in the Iraqi city of Samarra on Saturday, killing at least 14 people, police and medics said.
There was no claim of responsibility for the attack, but Sunni Islamist and other insurgents, including al Qaeda have been regaining ground this year, reversing a decline in sectarian bloodshed that reached a peak in 2006-7.
More than 6,000 people have been killed in acts of violence across the country so far this year, as Iraq's sectarian balance comes under acute strain from the civil war in neighbouring Syria.
"I stopped my car to buy sweets for my kids from a nearby shop when suddenly a huge blast shook the area," said 45-year-old teacher Kamal Mahmoud.
"I felt the heat of the blast on my face and the bodies of two women thrown in the middle of the street covered in blood, one of them without legs".
A further 31 people were wounded in the blast in the predominantly Sunni Muslim city's al-Shurta district.
Having been forced underground in 2007, Sunni Islamist al Qaeda is now staging a comeback, invigorated by war in Syria and growing resentment of the Shi'ite-led government that came to power in Iraq following the U.S.-led invasion.
Samarra has been a focal point for Sunnis who began taking to the streets last December in protests against Shi'ite Prime Minister Nuri al-Maliki, whom they accuse of marginalising their minority sect since Saddam Hussein's overthrow.
A raid by government security forces on a Sunni protest camp in April touched off a backlash by militants that is still ongoing.